AP Armaflex Insulation Available in Code Compliant 1-1/2" and 2" Thicknesses.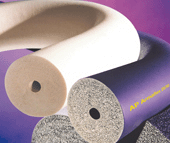 Armaflex, the world's most specified closed cell, moisture-resistant, fiber-free thermal insulation for chilled water and indoor air duct applications, is available in thicker sizes for greater energy savings and higher R-Values. AP Armaflex FS is fully code compliant: It meets 25/50 flame spread and smoke generation ratings in 1-1/2" and 2" thicknesses.
The products support LEED initiatives. Thermal properties meet requirements of ASHRAE 90.1, 189.1 and the International Energy Conservation Code (IECC) R-Value R-6 at 1-1/2" thickness and R-8 at 2".
The thicker AP Armaflex FS conforms to standards NFPA 90A and 90B by meeting the 25/50 rating required of materials used in return air plenums and exceeds requirements for other building applications.
The closed cell structure and code compliant thicknesses provide improved condensation protection for severe design conditions. They are suitable for the extreme temperatures and humidity associated with commercial refrigeration and some cold water systems.
The products also aggressively help protect the indoor air environment. They are fiber-free, formaldehyde-free, low VOC and meet the stringent GREENGUARD Certification® for Children & Schools. They are made with Microban antimicrobial protection to inhibit mold. And they are sustainable because they last the life of the mechanical system without the need for routine replacement. Even surface punctures or tears won't compromise its long-lasting thermal performance or mold prevention.